Featured on major publishers like Vogue and In Style, Hempathy Skincare has generated a ton of publicity, but is it right for you? Learn more in our Hempathy Review!
Hempathy Review
A healthier lifestyle is something that many people are constantly striving for but find it difficult to make time for and work into their daily routines. Especially right now, in the midst of a viral outbreak, it is more important than ever to have our immune systems running at their peak performance, which ranges from exercise to diet, to supplements, and much more.
With time being of the essence, as many people juggle new responsibilities and lifestyles, building in products that address some of these factors into a routine that is simple and efficient.
Hempathy, a skincare company based out of Marina Del Rey, California, looks to make that process one step easier by delivering beauty products that are dual-use in nature to your door. Their one hundred percent natural solutions use hemp seed oil as a carrier for many different vitamins and nutrients, which may bring health benefits along with cleansing and rejuvenation.
While Hempathy recommends using their whole collection in tandem for optimum results, here we will take a deep dive into each product in the collection Hempathy has launched and looked specifically at why this set caught our attention and how exactly they fit within their niche, in regards to quality, pricing, and much more.
If you are adamant about keeping a good skincare routine and want to learn more about how hemp seed oil can contribute to that, this is a review you will definitely want to read all the way through.
Hempathy Self-Care Collection
Hempathy Exfoliating Scrub
Hempathy Revitalizing Body Lotion
Hempathy Rejuvenating Face Oil
Hempathy Refreshing Eye Cream
Hempathy Exfoliating Scrub

Details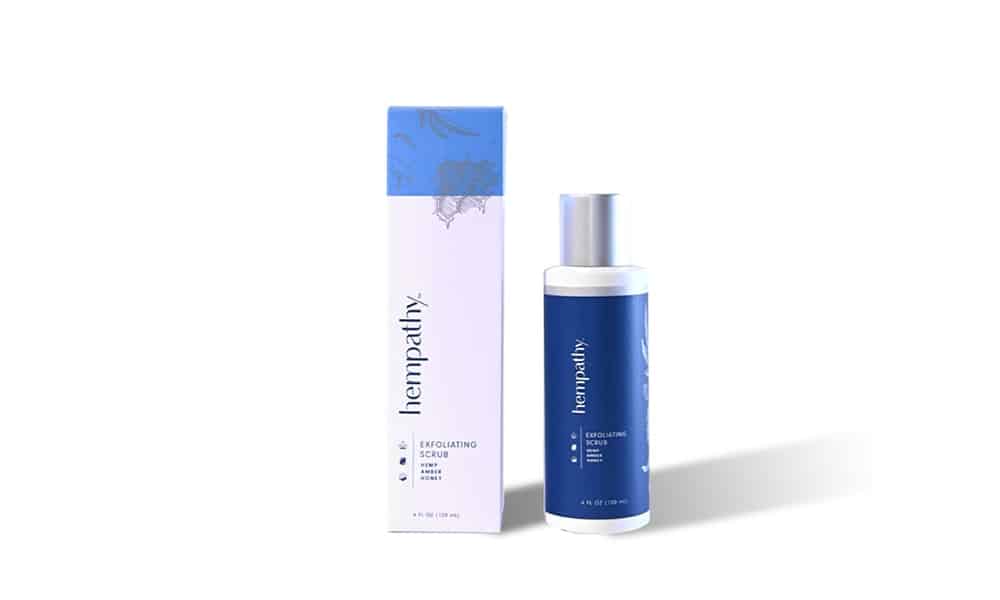 The exfoliating scrub uses fine amber that is high in succinic acid at its core to remove dirt, bacteria, and dead skin. The scrub also uses a blend of honey and hemp seed oil to moisturize, clarify, and provide Vitamins C & E, as well as amino acids. The scrub comes in a 4 fl oz / 120ml bottle. Recommended use is 2-3 times a week or once a week for those with sensitive skin.
Hempathy Exfoliating Scrub Ingredients: Water (Aqua), Amber Powder, Cannabis Sativa (Hemp) Seed Oil, Cetearyl Alcohol, Simmondsia Chinensis (Jojoba) Seed Oil, Mel (Honey) Extract, Aloe Barbadensis Leaf Juice, Coco-Glucoside, Vanilla Planifolia Fruit Extract, Xylitylglucoside, Anhydroxylitol, Magnesium Gluconate, Lavandula Angustifolia (Lavender) Oil, Xylitol, Cananga Odorata (Ylang-Ylang) Flower Oil, Cymbopogon Schoenanthus (Lemongrass) Oil, Propanediol, Glycerin, Disodium EDTA, Caprylyl Glycol, Pentylene Glycol, Phenethyl Alcohol
Hempathy Revitalizing Body Lotion

Details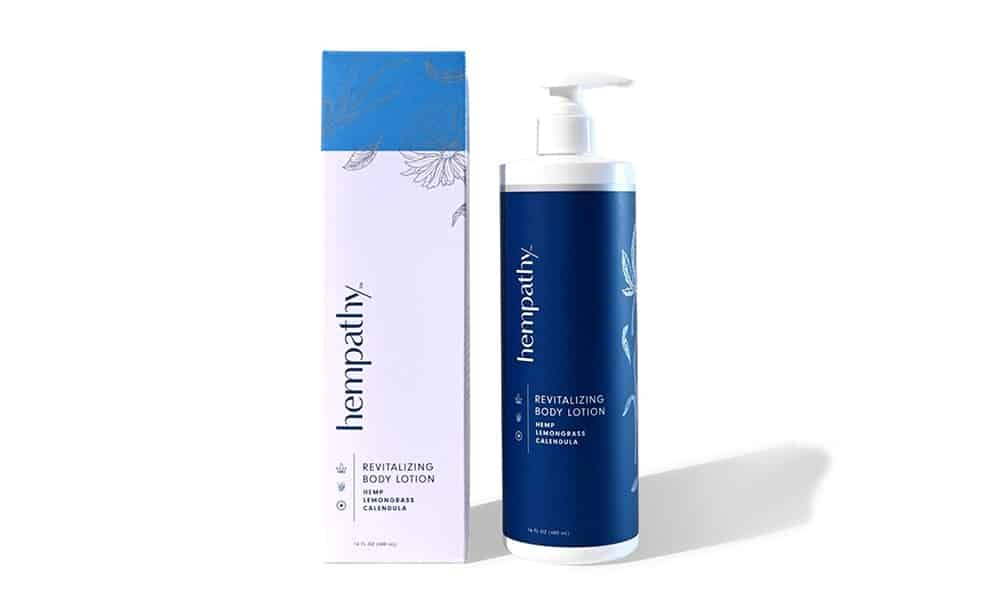 The revitalizing body lotion is perfect for everyday use, whether after showering, a long day in the sun, or those months of cold dry air, this lotion will bring the much-needed moisture back into your skin. The lotion is composed of a natural blend of hemp, calendula, and lemongrass, that carries a light scent, which isn't too powerful, but important to note for those with sensitivity to that. With an assortment of vitamins and antioxidants, this revitalizing lotion is meant to work hard against free radicals and give your skin a sleek, hydrated, softness. The lotion comes in a 16 fl oz / 480ml bottle. Recommended use in daily after showering.
Hempathy Revitalizing Body Lotion Ingredients: Water (Aqua), Cannabis Sativa (Hemp) Seed Oil, Cetearyl Alcohol, Simmondsia Chinensis (Jojoba) Seed Oil, Isopropyl Myristate, Polyacrylate-13, Calendula Officinalis (Calendula) Flower Extract, Cymbopogon Schoenanthus (Lemongrass) Oil, Sodium Hyaluronate, Squalane, Butyrospermum Parkii (Shea) Butter, Theobroma Cacao (Cocoa) Seed Butter, Lavandula Angustifolia (Lavender) Oil, Cananga Odorata (Ylang-Ylang) Flower Oil, Anthemis Nobilis (Chamomile) Flower Oil, Cholecalciferol, Polyisobutene, Polysorbate 20, Phenethyl Alcohol, Pentylene Glycol, Propanediol, Glycerin
Hempathy Rejuvenating Face Oil Details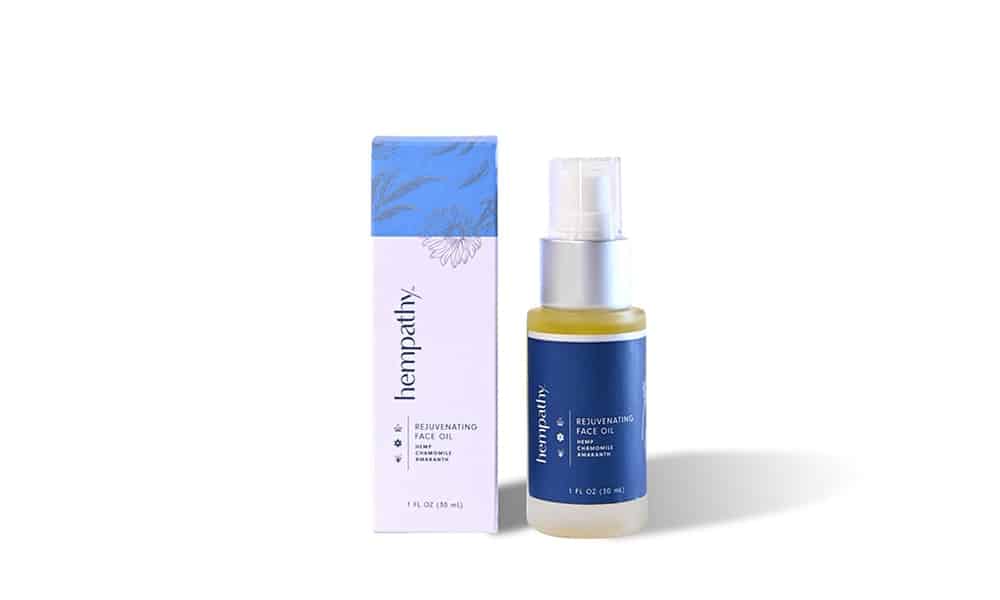 Built by blending together hemp, chamomile, and amaranth with complementary oils that are packed with nutrients and omegas 3, 6, 7, and 9, this face oil provides the ultimate moisture for your money-maker. Your face is one of the most important places to keep hydrated in order to reduce natural oil secretion which can be uncomfortable at best and cause acne in more unfortunate situations. This oil looks to prevent those complications of oily skin or battle against dry skin, it serves as a well-rounded addition to any skincare collection. Coming in a 1 fl oz / 30 ml bottle, you only need a couple of drops to get the job done.
Hempathy Rejuvenating Face Oil Ingredients: Carthamus Tinctorius (Safflower) Seed Oil, Argania Spinosa (Argan) Kernel Oil, Cannabis Sativa (Hemp) Seed Oil, Simmondsia Chinensis (Jojoba) Seed Oil, Squalane, Amaranthus Caudatus Seed Extract, Chamomile Recutita (Chamomile) Oil, Helianthus Annuus (Sunflower) Seed Oil, Cymbopogon Schoenanthus (Lemongrass) Oil, Cananga Odorata (Ylang-Ylang) Flower Oil, Cocos Nucifera (Coconut) Oil, Vitis Vinifera (Grape Seed Extract) Seed Oil, Persea Gratissima (Avocado) Oil, Macadamia Ternifolia Seed Oil, Elaeis Guineensis (Palm) Oil, Olea Europaea (Olive) Fruit Oil, Commiphora Myrrha Resin Extract, Gardenia Tahitensis Flower Extract, Lavandula Angustifolia (Lavender) Oil, Rosmarinus Officinalis (Rosemary) Leaf Extract, Linum Usitatissimum Seed Oil, Diisostearyl Malate, Tocopherol (Vitamin E), Glycine Soja Oil, Phenoxyethanol, Ethylhexylglycerin
Hempathy Refreshing Eye Cream Details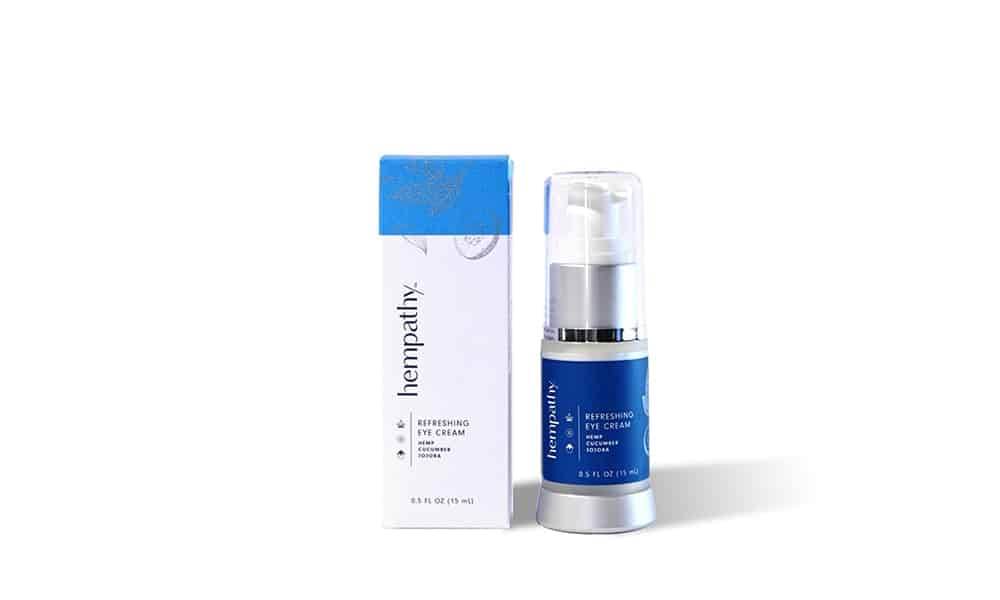 The area around your eyes is notorious for being one of the earliest spots to begin developing wrinkles. For this exact reason, the treatment of this area is essential to any skincare routine. With their Refreshing Eye Cream looks to provide the top-notch style treatment, you would receive at a local spa in the comfort of your home, which serves as especially important at this time when many establishments are closed. Using their signature hemp blend, combined with jojoba, cucumber, and a number of other vital ingredients is said to fight against puffy eyes, dark circles, and fine lines. Purchased in a 0.5 fl oz / 15ml bottle, this is to be used sparingly, but even as so can provide a noticeable difference.
Hempathy Refreshing Eye Cream Ingredients: Water (Aqua), Cannabis Sativa (Hemp) Seed Oil, Cetearyl Alcohol, Simmondsia Chinensis (Jojoba) Seed Oil, Propanediol, Polyacrylate-13, Polyisobutene, Cucumis Sativus (Cucumber) Extract, Retinyl Palmitate, Tocopherol (Vitamin E), Sodium Hyaluronate, Squalane, Acetyl, Hexapeptide-8, Polysorbate 20, Phenethyl Alcohol, Pentylene Glycol, Potassium Sorbate, Phenoxyethanol, Natural Fragrance
Hempathy Skincare Quality
Hempathy combines the nutrient-rich properties of hemp with a range of powerful, all-natural ingredients.
All Hempathy skincare products are made with 100% USA-grown, organic hemp seed oil and are formulated with a variety of high-quality, antioxidant-rich ingredients. In addition, all ingredients used in Hempathy products are cruelty-free, Leaping Bunny Certified, vegetarian, gluten-free, non-GMO, Paraben-Free, and do not contain any synthetic fragrances, phthalates, colorants, or dyes.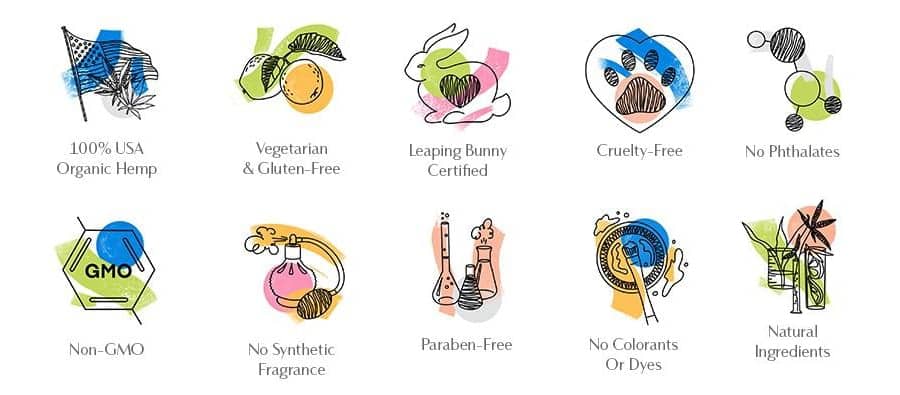 Hempathy Skincare Pricing
The Hempathy Self-Care collection, which includes all four of their skincare products, can be purchased from their online store for $98.95.
In addition, each item can be purchased individually at the following prices:
| | |
| --- | --- |
| Exfoliating Scrub | $24.95 |
| Revitalizing Body Lotion | $26.95 |
| Rejuvenating Face Oil | $36.95 |
| Refreshing Eye Cream | $27.95 |
Compared to other similar-quality hemp skincare products that are available on the market, Hempathy is priced very affordably. Plus, when purchased as a set, you'll enjoy a nice 15% discount off the individual prices.
When considering the high-level of quality you are getting, Hempathy offers great value for everyday consumers.
In addition to these great prices, Find Hemp CBD readers can enjoy additional savings on Hempathy products with our exclusive 15% off discount code: FHC15
About Hempathy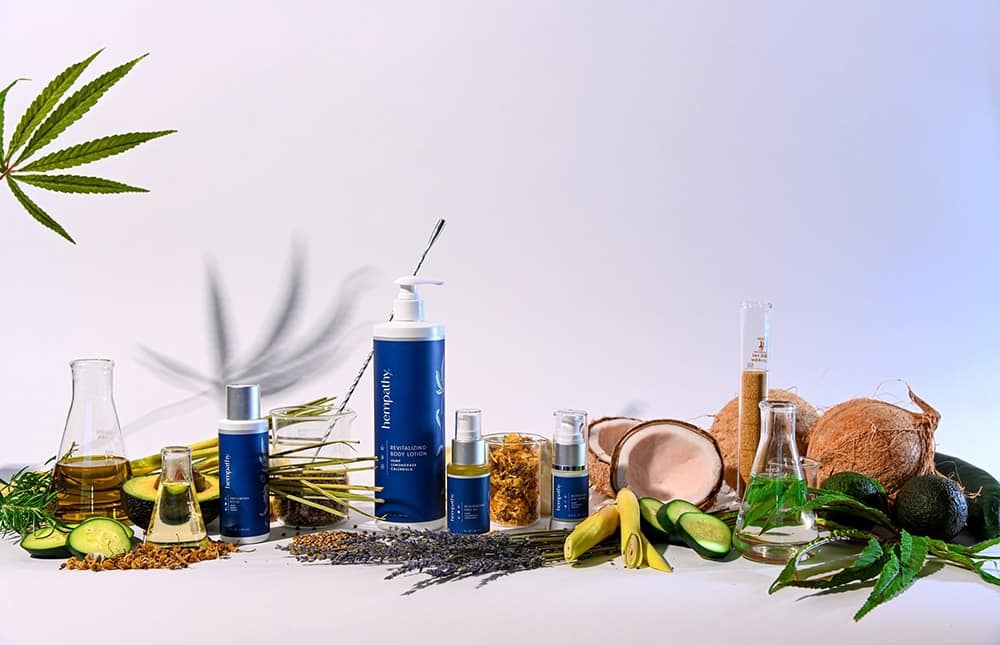 Hempathy is an industry-leading hemp skincare brand based out of Marina Del Rey, California.
Founded with a desire to help people feel healthier and more confident, hempathy is a strong proponent for self-care, mindfulness, and planetary purpose.
By using ingredients that are easy to read and know, they look to provide a simplistic and holistic experience in bettering your skin and overall health.
According to their website, the Hempathy team believes that a better future for the planet lies in returning to the roots of naturalism, and do their part by creating eco-friendly products and using sustainable methods of farming and production.
To learn more about Hempathy, visit their About Us page at https://hempathyliving.com/pages/about-us
Thank you for reading our official Hempathy review! If you have any comments, questions, or suggestions about Hempathy or our Hempathy Review, share your thoughts with us in the comments!
Don't forget to check out the FindHempCBD blog for more CBD reviews, articles, news, and more!
---
Please be aware that the individual(s) who conducted this Hempathy Review are not certified medical or nutritional experts and the content and information contained in this review should not be perceived as medical or health advice. While the individual(s) who conducted this review are knowledgeable and passionate about CBD and the quality of CBD products, you should always conduct additional research and thoroughly assess your decision before purchasing any product.