Wondering if Tessera Naturals is worth giving a try? Learn the facts and get a full product breakdown in our Tessera Naturals CBD Tincture Review.
[review_scorecard]
Tessera Naturals CBD Tincture Review
Tinctures are one of the most popular CBD products for a variety of reasons which include ease of use, determinative dosage, and a variety of ways to incorporate. Having a good set of tinctures is an important part of many arsenals that avid CBD users keep ready; most frequently taken sublingually, but can also be added to smoothies, salads, and much more.
In today's review, we'll be taking an in-depth look at Tessera Naturals CBD Tincture.
The Tessera Naturals CBD Oil Tincture is available in natural and mint, with concentrations strengths of 500mg and 1000mg, respectively. This tincture is THC-free and is made with a broad spectrum CBD sourced from organic hemp making it suitable for all situations while providing the utmost benefit.
Tessera Naturals also offers free shipping, as well as discounts for seniors and military, showing their outreach to some of the communities that may receive the most help from their products, and make it more accessible to those struggling through economic hardship.
Beyond this, we take a deep dive into the details of the Tessera Naturals CBD Tincture below so you can find out if it is right for you and make it easy to compare with similar products.
Tessera Naturals CBD Tincture Details
CBD Type: Broad Spectrum
Product Size: 30mL
Strength Options: 500mg / 1000mg
Price: $59 – $99
Tessera Naturals CBD Oil Ingredients
Natural flavor: Organic Coconut Oil (MCT), THC-Free Broad Spectrum Hemp Oil
Mint flavor: Organic Coconut Oil (MCT), THC-Free Broad Spectrum Hemp Oil, Peppermint Essential Oil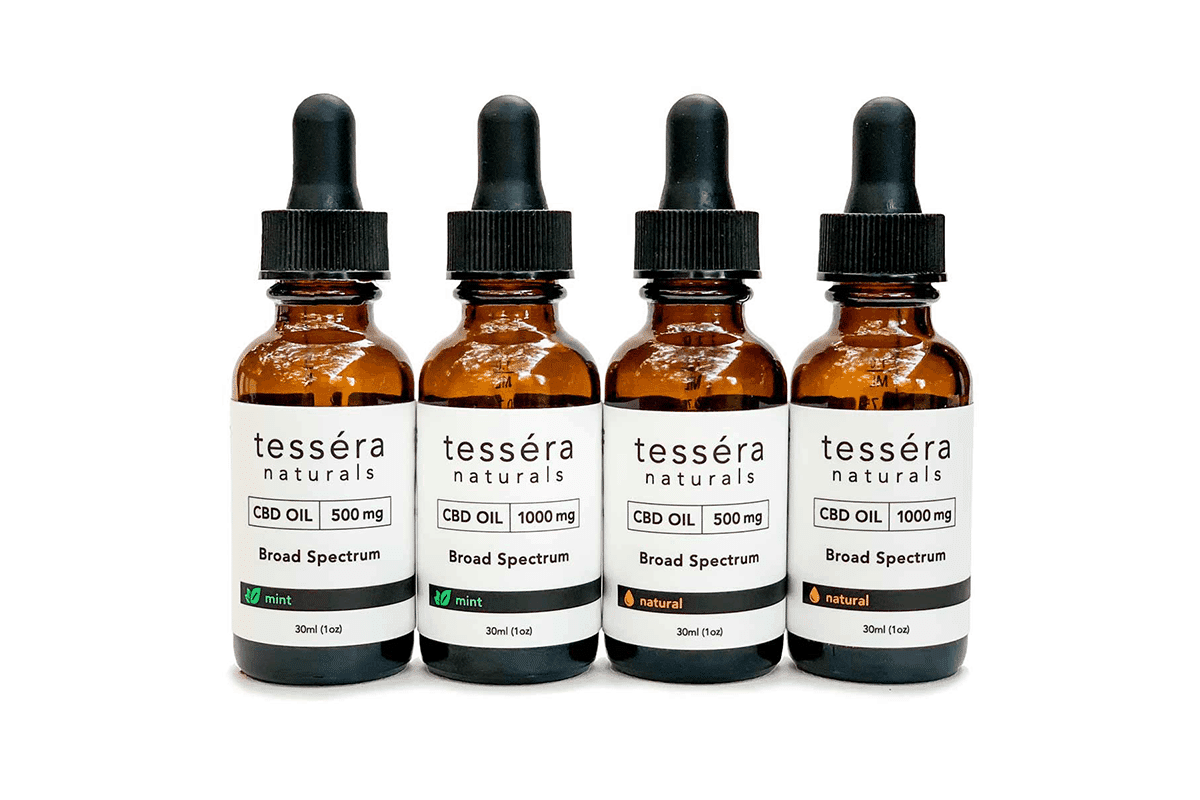 Tessera Naturals CBD Oil Quality
The organic hemp oil that is extracted and used in this tincture is blended with a special medium-chain-triglyceride (MCT) organic coconut oil, (and in the case of the mint flavor, peppermint essential oil as well) which gives it a richness and makes for better absorption.
Hemp Extract Quality
While some companies add synthetic materials to their hemp in order to increase yield or potency, all Tessera Naturals products are made from organically grown non-GMO hemp plants grown in Colorado where strict sustainable farming practices are followed. It is important to Tessera to stay locally sourced within the United States because of the strict regulatory guidelines put on hemp growers in the country.
Tessera Naturals uses a proprietary strain of high CBD hemp as compared to standard industrial hemp used by some CBD producers.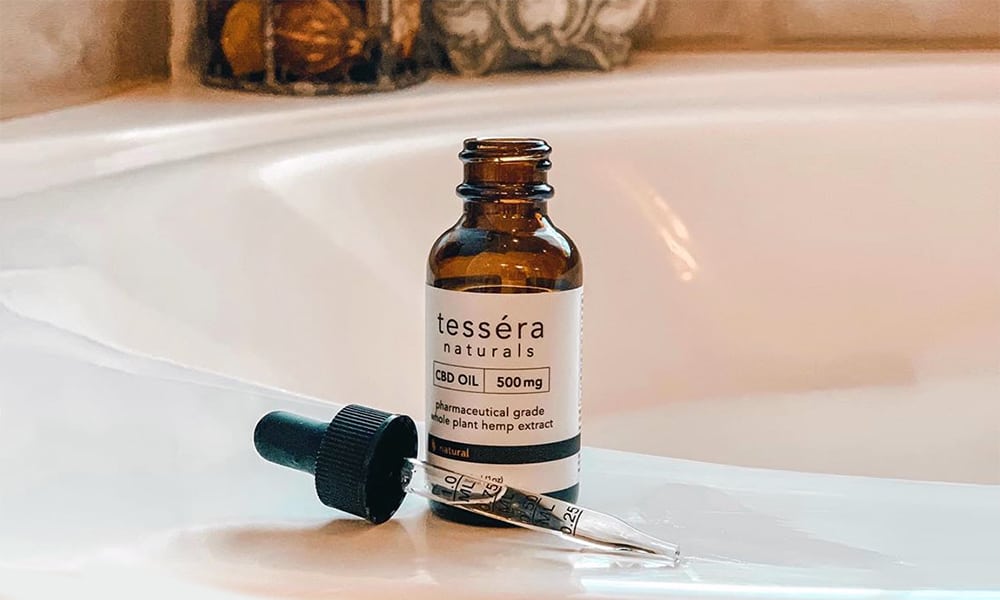 Production Process
Tessera Naturals uses a solvent-free supercritical CO2 extraction process to ensure the oil maintains the whole plant profile and preserves all of the beneficial cannabinoids, terpenes, flavonoids, and amino acids leading to a full spectrum extract. The oil is kept cold and sealed throughout its journey in order to preserve it.
The oil extract is further purified by eliminating unwanted waxes and chlorophyll, as well as ensuring 0% THC.
Tessera Naturals uses a chromatographic purification process that is able to selectively remove the trace amounts of THC from the hemp oil extract while retaining all other synergistic molecules in hemp oil. The result is a broad spectrum CBD oil.
The absence of THC in Tessera Naturals' products is confirmed through High-Performance Liquid Chromatography (HPLC) testing and has been certified by the Colorado Dept. of Public Health and Environment (CDPHE) as 0% THC products.
All Tessera Naturals products also make sure to use eco-friendly packaging, free of BPA plastics.
Lab Testing Standards
Tessera Naturals has partnered with scientists, chemists, veterinarians, and product formulators to ensure that products are the highest quality possible.
Tessera Naturals tests for Cannabinoid Profile & Potency, Terpenoid Profile and Potency, Heavy Metals, Microbiological Contaminants, Bacterial Contaminants
Tessera Naturals provides easy access to each product's lab reports through QR code or you can visit their lab report page on their website directly for full details.
Tessera Naturals CBD Tincture Pricing
Tessera Naturals has fairly good prices for the quality and strength provided, here is the breakdown:
| | | |
| --- | --- | --- |
| 500mg | $59 | $0.12/mg |
| 1000mg | $99 | $0.10/mg |
Compared to other similar options that are available on the market, Teserra Naturals CBD Tincture is competitively priced.
When you add in free shipping and potential discounts this product is priced incredibly well, not to mention their 100% money-back guarantee.
If you're interested in trying this CBD Tincture, use our exclusive Tessera Natural Coupon code and save 20% off your entire order!
To redeem this offer, use code: FINDHEMP
About Tessera Naturals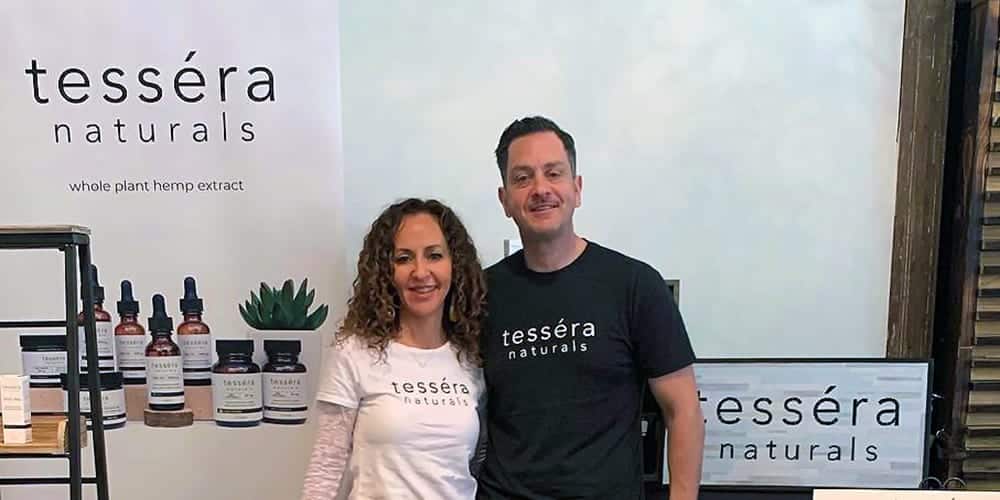 Tessera Naturals focuses on the production of CBD items to help move customers towards a healthier lifestyle but also uses their platform to educate on other methods of bettering the quality of life. Tessera Naturals encourages people to move towards an organic diet and use full plant supplements to make the impact of their CBD products most effective.
Tessera is also very involved in giving back through charity and making sure they are working with respect to the environment when it comes to sustainability. The company based in Austin, Texas, has been informed by travels around the world, such as local practices in Peru and Colorado, to find the best methods while retaining a closeness to nature's sanctity.
To learn more about Tessera Naturals, please visit their website and check out the company About Us page.
[review_scorecard]
Thank you for reading our official Tessera Naturals CBD Tincture review! If you have any comments, questions, or suggestions about Tessera Naturals or our Tessera Naturals Review, please drop us your message in the comments – we'd love to hear from you!
For more CBD reviews, articles, news, and more, be sure to check out the official FindHempCBD blog!
---
Please be aware that the individual(s) who conducted this Tessera Naturals CBD Tincture review are not certified medical or nutritional experts and the content and information contained in this review should not be perceived as medical or health advice. While the individual(s) who conducted this review are knowledgeable and passionate about CBD and the quality of CBD products, you should always conduct additional research and thoroughly assess your decision before purchasing any product.