Packed with 1000mg of broad spectrum CBD, this CBD Relief Stick sure packs a punch, but is it right for you? Learn more in our GoGreen Hemp CBD Relief Stick Review!
[review_scorecard]
GoGreen Hemp CBD Relief Stick Review
The GoGreen Hemp CBD Relief stick is an easy to use roll-on that's packed with a whopping 1000mg of broad spectrum CBD.
Featuring a convenient twist-to-dispense design and, roughly about the size of a bar of deodorant, GoGreen Hemp's CBD Relief stick is perfect for on-the-go use.
Is this product right for your needs? Find out more in our in-depth review of the GoGreen Hemp CBD Relief Stick.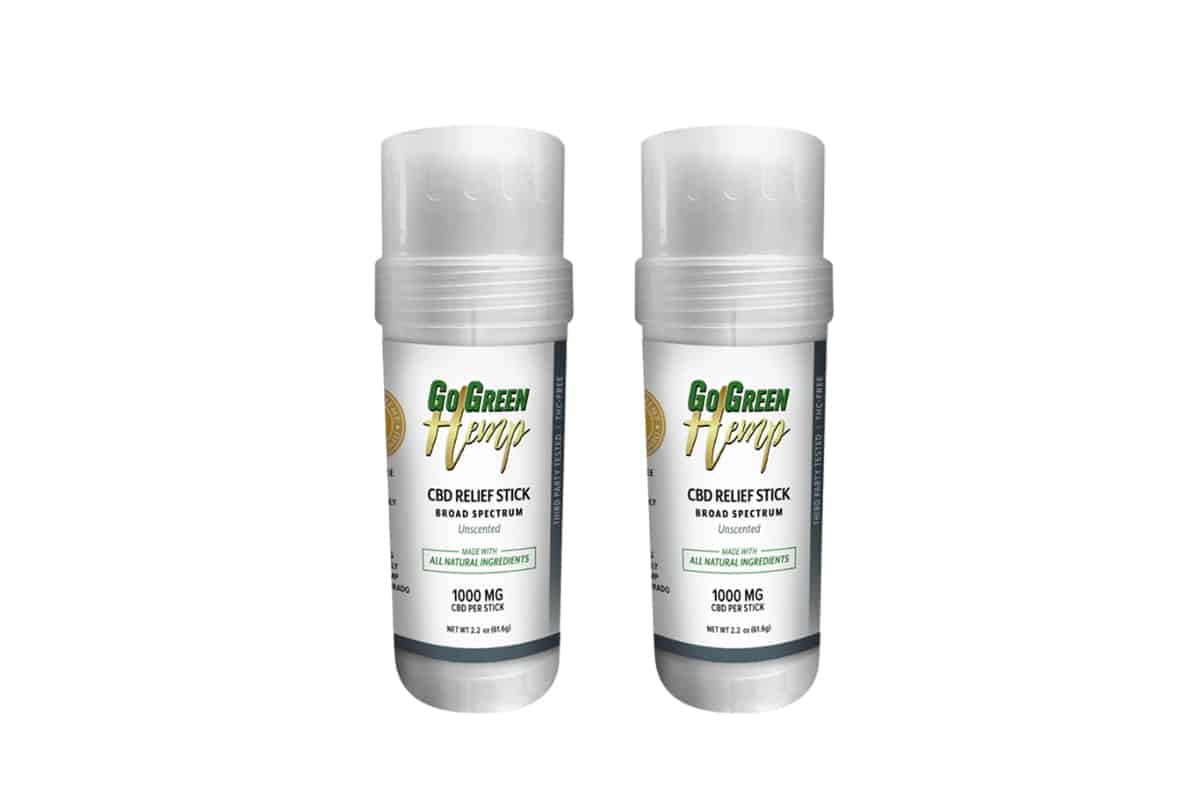 GoGreen Hemp CBD Relief Stick Details
CBD Type: Broad Spectrum
CBD Strength: 1000mg
Product Size: 2.2oz
Fragrance: Unscented
Price: $64.99
GoGreen Hemp CBD Relief Stick Ingredients
Beeswax, MCT Oil, Broad Spectrum CBD
GoGreen Hemp CBD Quality
The quality of GoGreen Hemp's CBD Relief Stick is fairly simple yet quite impressive.
The product is made with just three all-natural ingredients: beeswax, MCT oil, and broad spectrum CBD extract.
With so few ingredients, GoGreen Hemp's CBD Relief Stick features a very light, almost unnoticeable fragrance and does not leave any residues when applied.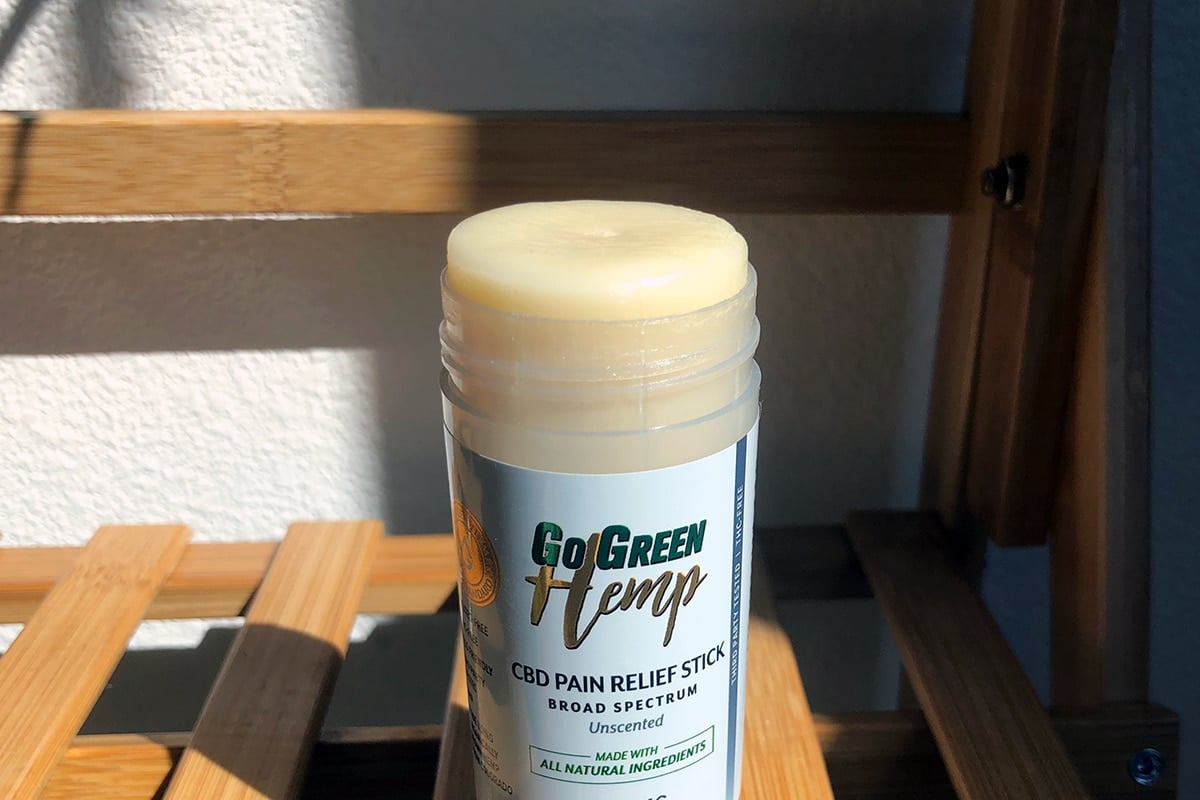 GoGreen Hemp's products are made with broad spectrum CBD oil that is extracted from high-quality hemp, grown organically in Colorado.
In order to maintain the integrity of the hemp plant's valuable nutrients, and provide a product that delivers CBD in its most natural state, GoGreen's hemp is cultivated without any harsh heavy metals or pesticides.
Production Process
To produce its products, GoGreen Hemp utilizes Co2 extraction, combined with a secondary rudimentary chromatography. This ensures that the end product features a rich profile of nutrient-rich terpenes and cannabinoids, but contains no traces of THC.
Lab Testing Standards
According to the company's website, "GoGreen Hemp tests every batch for purity and potency with third-party ISO-certified laboratories. Each batch of our CBD has full traceability from the initial seed to the final sale."
In order to ensure the quality, safety, potency, and purity of its products, all GoGreen Hemp products undergo a rigorous lab testing procedure that involves two different stages of testing.
The first stage is performed in-house, prior to manufacturing, and tests GoGreen Hemp's raw CBD extract for cannabinoid and terpene potency, microbial contaminants, heavy metals, pesticides, and residual solvents. The second stage of testing is performed by an ISO-certified third-party laboratory, after manufacturing, and tests for cannabinoid potency and the presence of THC.
The latest lab report for each GoGreen Hemp product can be accessed by scanning the QR code on the product's label or by visiting the lab reports page of their website.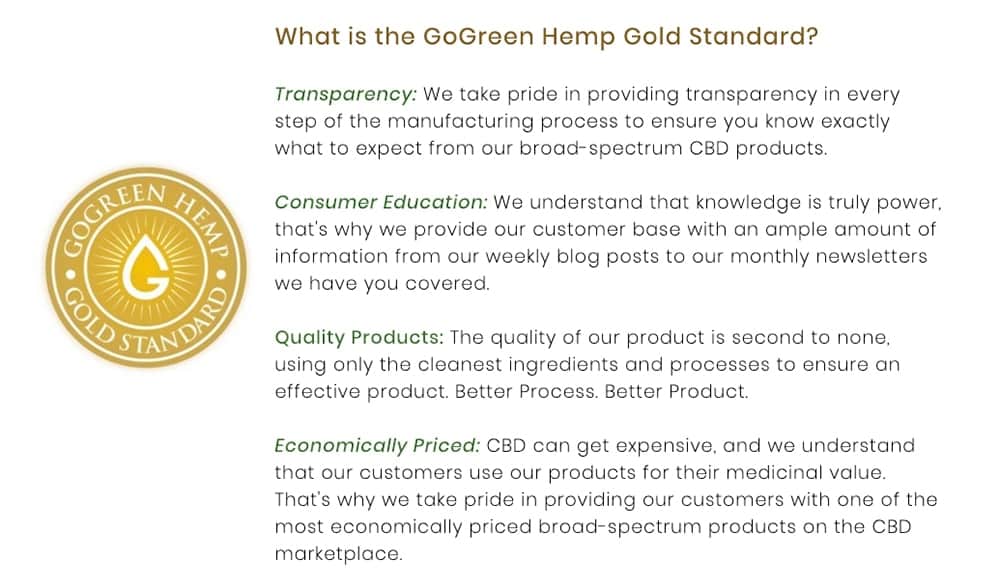 GoGreen Hemp CBD Relief Stick Pricing
| | | |
| --- | --- | --- |
| 1000mg | $64.99 | $0.065 per mg |
Compared to other similar options that are available on the market, the GoGreen Hemp CBD Relief Stick sits right at the lower end of the average price range we typically find, usually somewhere between 6-8 cents per mg.
When you consider the high level of quality this product provides, its value is honestly unmatched by most competitors.
Bonus: FindHempCBD readers can save a whopping 20% OFF all GoGreen Hemp products by entering code "FIND20" at checkout.
About GoGreen Hemp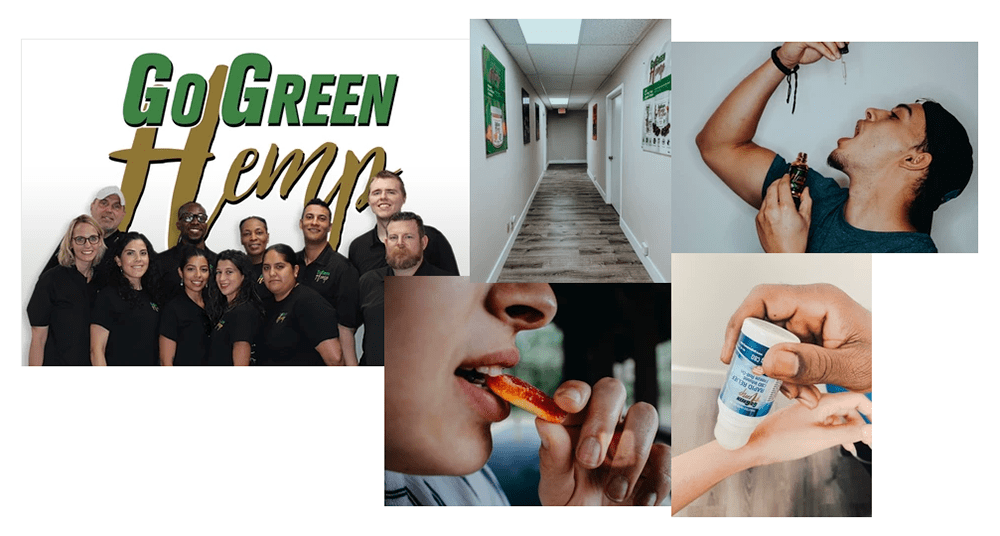 Based out of Plantation, Florida, GoGreen Hemp that started back in 2016, looking to provide hemp-based solutions countrywide from yoga studios to vitamin shops.
Their business model is one based largely on transparency, which sits at the core of their mission. By giving consumers all the available data on their product and their process, they look to educate, inform, and let the customer make the decision on whether their product is a fit for them.
To learn more about GoGreen Hemp, visit their website at https://www.gogreenhemp.com/
[review_scorecard]
Thank you for reading our official GoGreen Hemp CBD Relief Stick review! If you have any comments, questions, or suggestions about GoGreen Hemp or our GoGreen Hemp Review, please drop us your message in the comments – we'd love to hear from you!
Check out the FindHempCBD blog for more CBD reviews, articles, news, and more!
---
Please be aware that the individual(s) who conducted this GoGreen Hemp CBD Relief Stick review are not certified medical or nutritional experts and the content and information contained in this review should not be perceived as medical or health advice. While the individual(s) who conducted this review are knowledgeable and passionate about CBD and the quality of CBD products, you should always conduct additional research and thoroughly assess your decision before purchasing any product.