Do you have an anxious or nervous pup? Okoa Pet's Hush Puppy Calming Soft Chews may be able to help. Learn more and find out if these CBD dog treats are right for you in our Okoa Pet CBD-Infused Calming Dog Treats Review!
Okoa Pet CBD Dog Treats Review
Do you have a nervous or anxious dog, or maybe even a wild or aggressive one? Well, Okoa Pet's "Hush Puppy" CBD-Infused Calming Dog Treats might be the exact product you've been looking for.
Whether you're always on-the-go and have a pet that doesn't necessarily enjoy car rides or inevitable and uncontrollable circumstances like thunderstorms or fireworks, Okoa Pet's Hush Puppy Calming CBD Dog Treats is formulated to help improve the situation.
Here in our review of the specially formulated dog treat, we will take an in-depth look to give you all the information you need to decide whether Okoa Pet's CBD Dog Treats are right for your pup.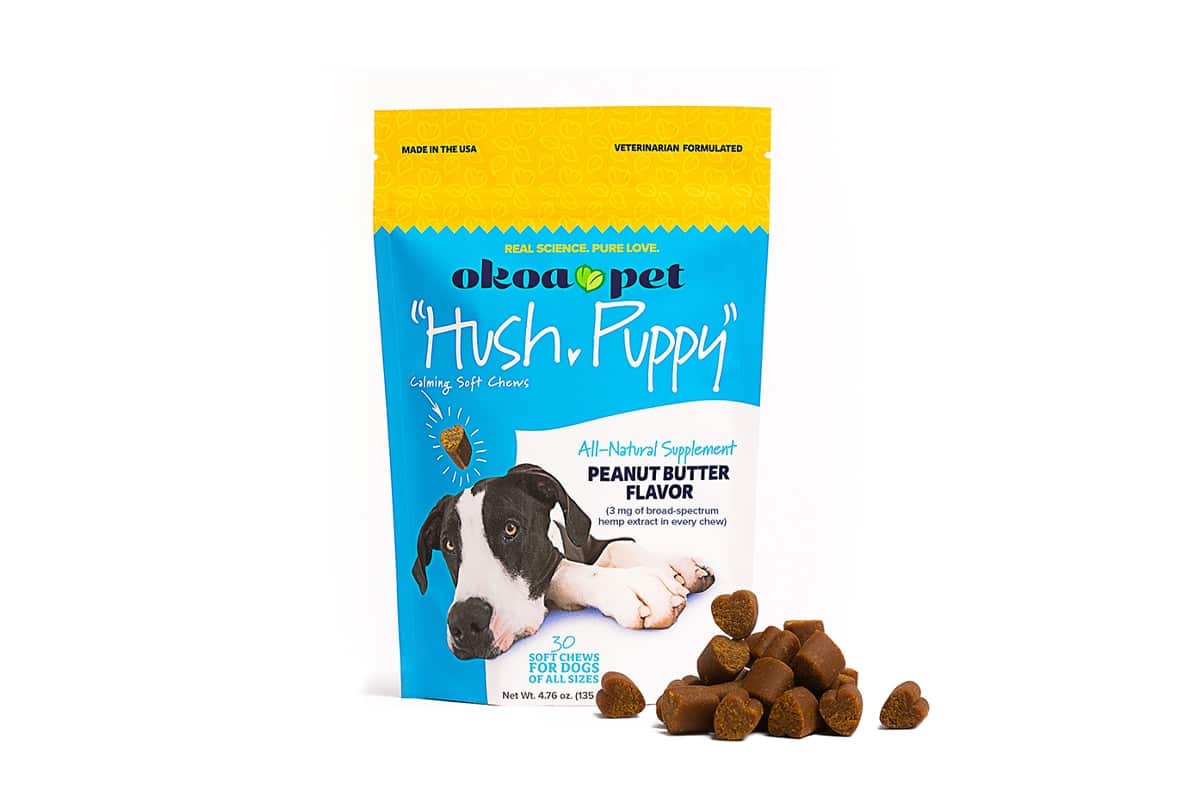 Okoa Pet "Hush Puppy" Calming CBD Dog Treats Details
CBD Type: Broad Spectrum
Product Size: 30-count bag
Strength: 4mg cannabinoids (3mg CBD + 1mg minor cannabinoids) per treat
Flavor: Peanut Butter
Price: $24.99
Okoa Pet Hush Puppy Dog Treats Ingredients
Active Ingredients Per Chew
Tryptophan – 50mg
Choline Chloride – 50mg
Phosphatidylcholine – 25mg
German Chamomile – 15mg
Broad Spectrum Hemp Extract – 3mg CBD + 1mg minor cannabinoids
Other/Inactive Ingredients
Ascorbic Acid, Blackstrap Molasses, Calcium Propionate, Chickpea Flour, Coconut Oil, Glycerin, Mixed Tocopherols, Peanut Butter, Sweet Potato, Sunflower Lecithin, Tapioca Starch, Water.
Important Notice: Please be aware that this product contains peanuts, and to be sure your dog does not suffer from allergies to peanuts or any of the other listed ingredients. If your dog has any adverse effects after eating the treats, you should contact your vet immediately.
Okoa Pet Quality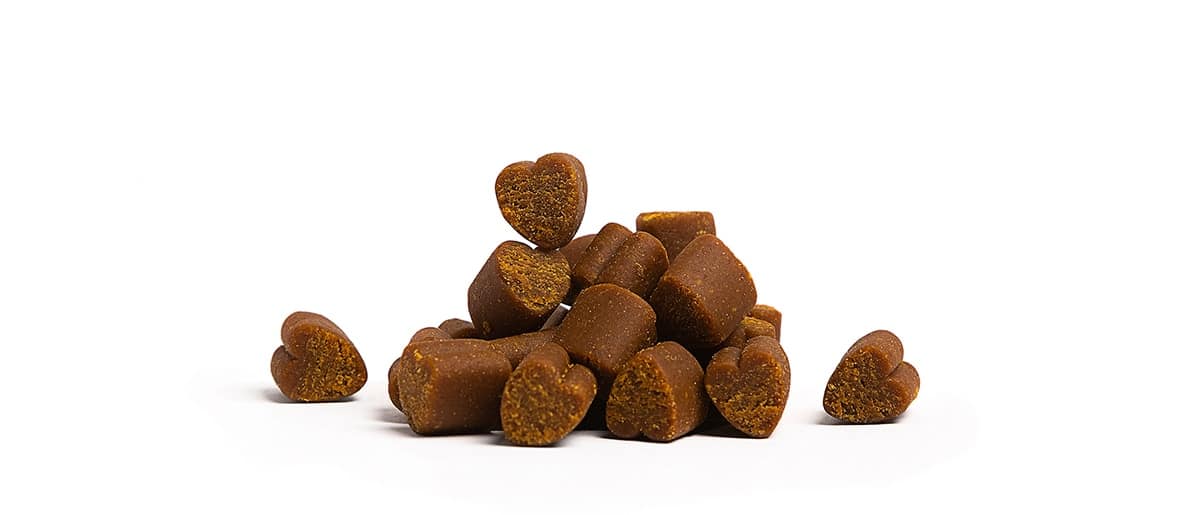 Okoa Pet products are custom-formulated by renowned veterinarian Dr. Robert Silver, DVM MS, a pioneer in holistic vet medicine and national cannabinoid expert.
This type of top-level research and testing is what makes this product stand out from the pack. When you buy from Okoa Pet you know you can be assured that a dedicated team of scientists and animal lovers are heavily involved in its production and quality.
Hemp Extract Quality
The hemp used in Okoa Pet products is grown in the United States on licensed farms in Colorado, Oregon & Washington.
Each lot of raw material is tested for potency, heavy metal, and pesticides The hemp is processed in a cGMP certified lab and is certified organic. In addition, our hemp is farm bill compliant and kosher certified. Our hemp extractor is a preferred supplier of the National Animal Supplement Council.
Production Process
Okoa Pet products are finished and manufactured at the company's state-of-the-art facilities that are GMP-certified by the FDA. In addition, Okoa Pet's manufacturer is certified by the National Animal Supplement Council (NASC).
Lab Testing Standards
To ensure the purity and safety of Okoa Pet's hemp-derived CBD products, the company uses an independent ISO 17025 certified laboratory to screen and test for cannabinoid content, heavy metals, microbial levels, mycotoxins, and fungicides.
To view Okoa Pet's latest lab reports, please visit the following page of their website: https://okoapet.com/certificates-of-analysis/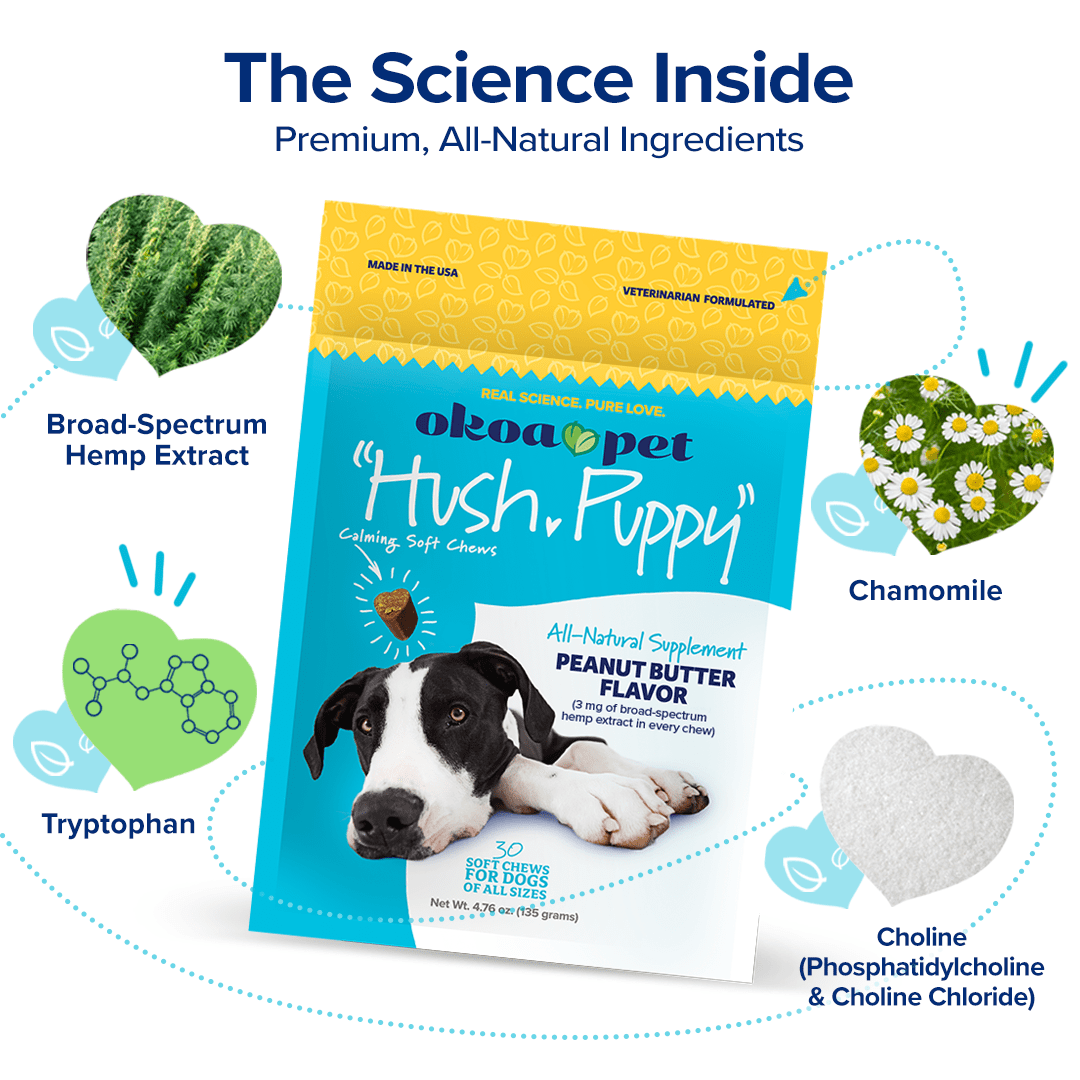 Okoa Pet Hush Puppy Calming Dog Treats Pricing
| | | |
| --- | --- | --- |
| 120mg per bag | $24.99 | $0.21 per mg |
At just over 20-cents per milligram of cannabinoid content and less than a dollar per treat, Okoa Pet's Calming Dog Treats are priced competitively with other options that are currently available on the market.
As an added value, the company offers a 15% recurring discount to shoppers who decide to take advantage of their "Autoship & Save" program. In addition, the company offers a 30-Day Money-Back Guarantee on all purchases!
Bonus: FindHempCBD readers can save a whopping 20% OFF their 1st purchase at Okoa Pet with coupon code "OKOA20"
About Okoa Pet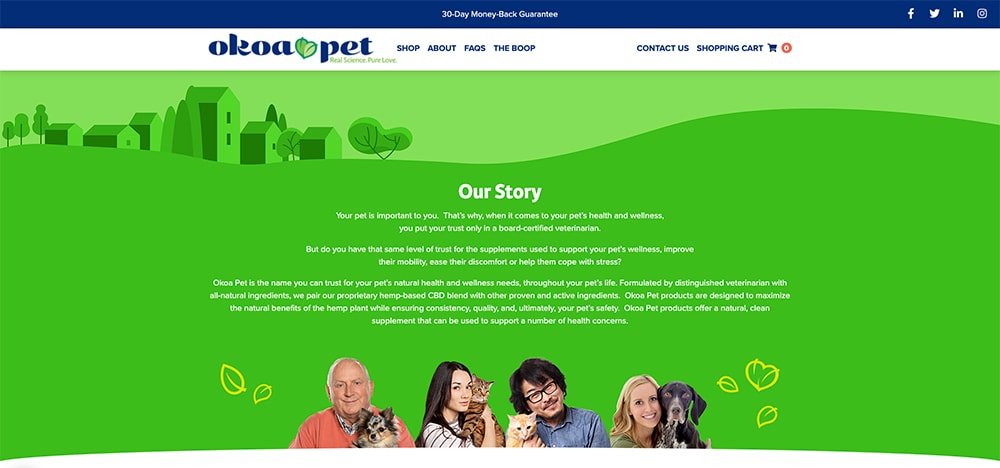 Okoa Pet is based out of Boulder, Colorado, and was founded by a team of women who are both scientists and animal advocates.
The term Okoa is a Hawaiian word that can mean either transparent, different, or whole, which stands to represent the company's upfront manner of detailing their research and production, the thoroughness of the care they take, as well as their innovation. The love Okoa shows for the animal community shows that they treat your pets the same way you do, like family.
To learn more about Okoa Pet, visit their website at https://okoapet.com/about/
[review_scorecard]
Thank you for reading our official Okoa Pet CBD-Infused Calming Dog Treats review! If you have any comments, questions, or suggestions about Okoa Pet or our Okoa Pet Review, please drop us your message in the comments!
Check out the FindHempCBD blog for more CBD reviews, articles, news, and more!
---
Please be aware that the individual(s) who conducted this Okoa Pet review are not certified medical or nutritional experts and the content and information contained in this review should not be perceived as medical or health advice. While the individual(s) who conducted this review are knowledgeable and passionate about CBD and the quality of CBD products, you should always conduct additional research and thoroughly assess your decision before purchasing any product.