In our Galaxy Treats Moon Babies review, we're diving deep into these buzz-worthy Delta-8 gummies. Galaxy Treats Moon Babies claims to deliver a top-quality experience, packing a punch with 25mg of Delta-8 THC in each gummy and promising a journey to the stars. We're here to strip it down to the real deal—taste, impact, the whole shebang.
Here at FindHempCBD.com, we're dedicated to providing in-depth reviews on cannabis products so our readers can discover products they'll truly love. Join us as we check out if Galaxy Treats Moon Babies are truly out of this world!
Related Article: Galaxy Treats Moon Babies Delta 9 Gummies Review
Brand Overview
Galaxy Treats is carving out a stellar reputation in the hemp industry with its potent and flavorful Delta-8 THC offerings. Their commitment to quality is evident in their popular Moon Babies Delta-8 Gummies, which are rigorously tested for safety and quality.
Beyond Delta-8 THC gummies, the Galaxy Treats is on a mission to innovate, expanding their universe with a variety of cannabinoid-based edibles and vapes. They stand out for their dedication to transparency and customer satisfaction, aiming to provide an exceptional experience for both new and experienced users in the hemp community.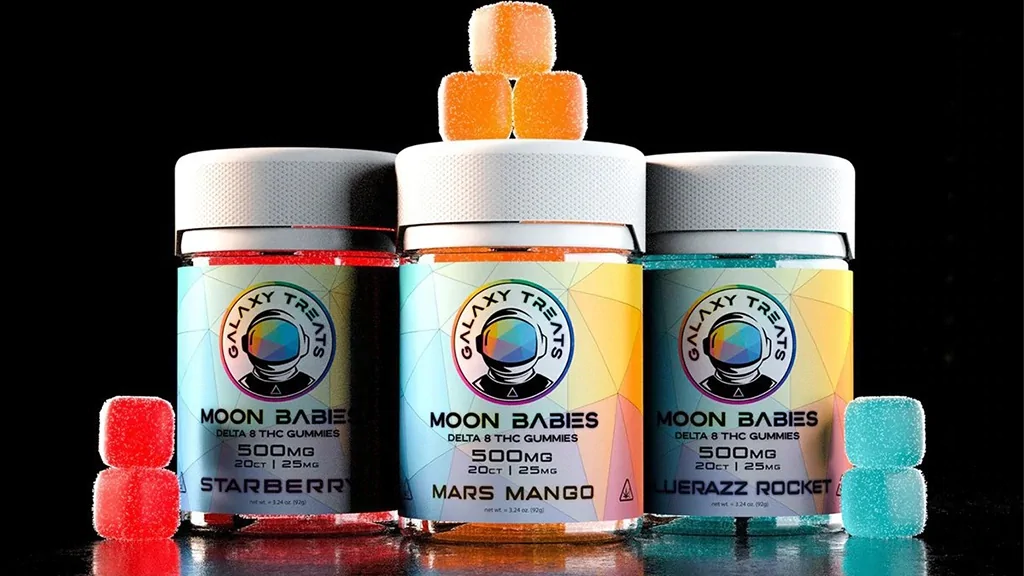 Galaxy Treats Moon Babies Review: First Impressions
When you get your hands on a new product, it's like you're meeting the brand in person for the first time, right? Well, Galaxy Treats gets that, and they've made sure their Moon Babies Delta-8 Gummies makes a statement from the get-go. Here's what to expect when you unwrap these D8 gummies:
Packaging Design
First off, the packaging bursts with colors, showcasing their jazzy branding, yet still manages to look very professional and clean.
Everything you need to know if conveniently on the label: flavor profile, how much Delta-8 THC each gummy's got, and how many D8 gummies are in the bottle.
Plus, it's has a child-proof cap, which is always good to have for gummies like these.
Unboxing Experience and First Look at the Gummies
Cracking open the bottle feels like a mini celebration, like someone just handed you the coolest present.
Inside, you'll find bright gummies coated in sparkling sugar that are almost too pretty to eat—almost.
And that first whiff? It's like a teaser for the flavors you're about to dive into, getting you pumped to try them out.
Product Specs: What are Delta 8 Moon Babies?
Galaxy Treats Moon Babies are a line of hemp-derived gummies infused with Delta-8 THC, a cannabinoid known for its unique properties that offer a middle ground between CBD and Delta-9 THC.
Potency Perfection: With 25mg of Delta-8 THC per gummy, users can easily control their dose.
Flavor Variety: A range of flavors caters to different palates while maintaining the product's signature quality.
Quantity Convenience: Sold in packs of 20, these gummies are perfect for regular users and social sharing.
Quality Ingredients: A commitment to purity means a product free from unnecessary additives.
Accessible Experience: Ideal for both beginners and experienced users, with dosing that can be tailored to individual preferences.
What Flavors Are There?
One thing to love about Galaxy Treats as a brand is they always offer excellent options when it comes to flavors. The three flavors available with their Moon Babies delta 8 gummies include:
Starberry, which is a sweet strawberry flavor

Bluerazz Rocket, which is a nice blue raspberry flavor

Mars Mango, which is a fruity mango flavor
Not only are Galaxy Treats delta 8 gummies tasty, but they are also made flavorful with actual hemp-derived terpenes and natural flavors instead of a bunch of artificial additives.
Are Moon Babies Delta 8 safe?
There are several aspects of Galaxy Treats delta 8 gummies to appreciate when it comes to quality:
The gummies are made right here in the US

The extracts used are extracted 100 percent from hemp

Galaxy Treats pays for full panel lab testing for potency, purity, and contaminants
You can easily track down the Certificate of Analysis for any of the delta 8 gummies you are considering from the brand on the Lab Reports page. Not all brands make this information easy to find before actually making a purchase, but Galaxy Treats has no qualms about transparency.
One final note on quality to appreciate with this brand of gummies is you can see the quality from the time you get the product. Every order is well packaged in either a pouch or sealed bottle, the gummies are uniformly shaped, consistently colored, and not clumped together or melted.
How Much Are Moon Babies?
The prices for the Galaxy Treats delta 8 gummies are out of this world (pun intended!). Seriously, though, these gummies have hovered at a competitive price point for quite some time when you compare them to other brands. Not to mention Galaxy Treats is constantly running promotions and discounts and free shipping on orders over $30. The normal price for Galaxy Treats delta 8 gummies is $34.99 for a 20-count, 500mg bottle or $4.99 for a 2-count sample pack with 50mg.
As an example of the good deals you can find for these gummies, at the time of this review, you could get a 20-count bottle of delta 8 gummies for just $19.99. This works out to be about $1 per gummy and around $0.04 per milligram of delta 8. Prices online for delta 8 edibles range from $0.03 to over $0.10 per milligram among several brands, which means Galaxy Treats delta 8 gummies falls on the low end of the spectrum for a high-quality product.
What do people say about Galaxy Treat Moon Babies?
Customer feedback for the Galaxy Treats delta 8 gummies is pretty great. Every flavor has dozens of reviews, and the products maintain nearly a five-star rating across the board with practically no complaints to find. A few reviews pulled directly from the Galaxy Treats site include:
"Excellent product at an excellent price. These D8 Gummies are the best for pain and insomnia."
"The starberry flavor is great, and I enjoy the feeling of relaxation I receive from them. You just got a lifetime customer."
"These are some of the BEST delta 8 edibles I've ever tried. Hands down best quality and flavor. Will definitely recommend!"
Final Thoughts – Are Galaxy Treats Delta 8 Gummies worth a try?
In summing up our Galaxy Treats Moon Babies review, we're giving these gummies a big thumbs up. They deliver a potent punch with a safety net of rigorous testing and clear labeling, standing out in a market that's often like the Wild West. We're all about their transparency and quality, which makes us feel good about recommending them to anyone looking for a dependable Delta-8 thrill.
So, if you're in the market for a Delta-8 treat that ticks all the boxes for fun and trustworthiness, these gummies are a smart pick.
And hey, don't forget to cash in on our exclusive 30% OFF Galaxy Treats Promo Code – use the code FHC30 at galaxytreats.com for a stellar 30% off your entire order. Grab this deal and enjoy the Galaxy Treats experience!