Wondering if the Joy Organics CBD Oil is worth giving a try? Learn the facts and read the full product breakdown in our comprehensive Joy Organics CBD Oil Review.
[review_scorecard]
Joy Organics CBD Oil Review
Crafted with a phytocannabinoid-rich blend of broad spectrum hemp oil, Joy Organics CBD Oil is available in a wide variety of strength and flavor options.
Each tincture is bottled in a dark amber bottle, which helps to deter sunlight from damaging the oil, and the droppers are marked with clear measurement lines to allow convenient dosing for the user.
From the minute each bottle is removed from its box, you're drawn in by the pleasant aromas of each flavor.
Is the Joy Organics CBD Oil Tincture as effective and great-tasting as it smells though?
Keep reading to learn more and find out if the Joy Organics CBD Oil tincture is right for you.
Joy Organics CBD Oil Details
Product Size: 30ml / 1oz
Product Flavor(s): Natural, Tranquil Mint, Orange Bliss, Summer Lemon
CBD Strength(s): 250mg, 500mg, 1000mg, 1500mg
Ingredients: Organic Extra-Virgin Olive Oil, Phytocannabinoid-Rich Hemp Extract, Organic Essential Oil (varies by flavor)
Price: $29.95 to $99.95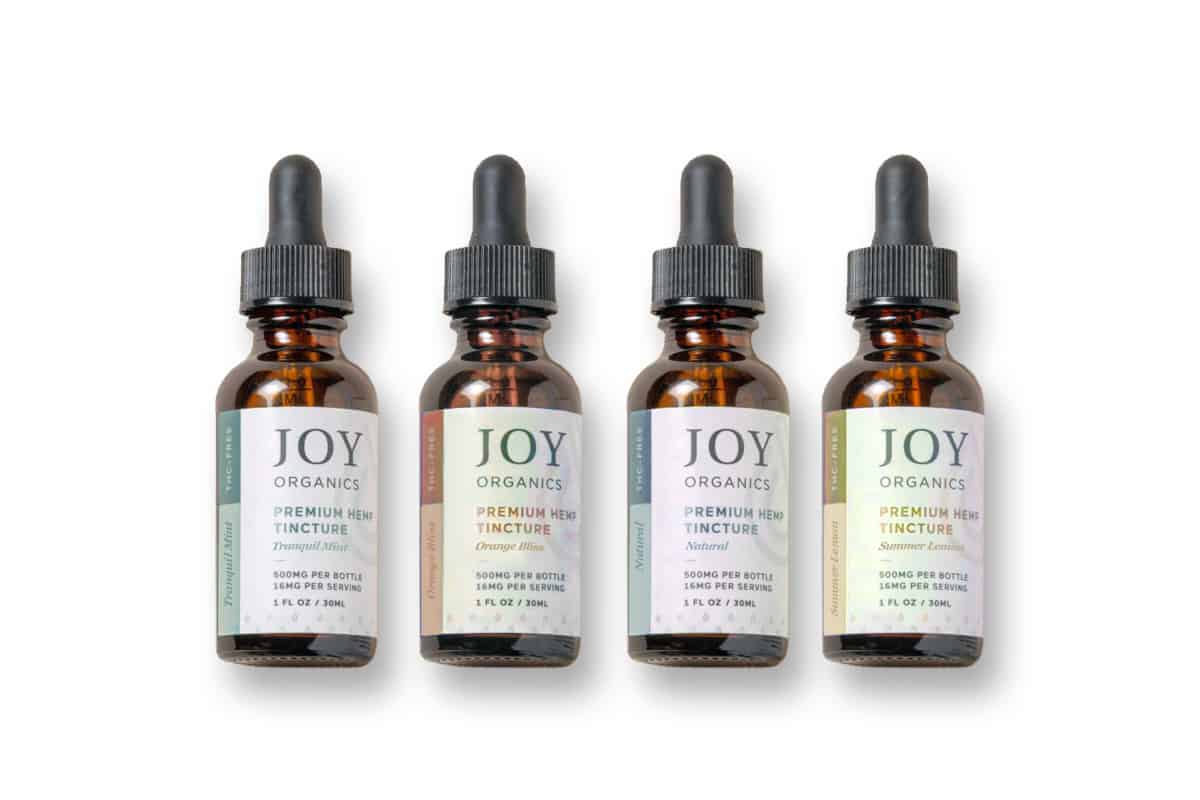 Joy Organics CBD Oil Quality
Formulated with a phytocannabinoid-rich blend of broad spectrum hemp oil, Joy Organics CBD blend is organic, non-GMO, alcohol-free, and THC-free.
As a member of the U.S. Hemp Roundtable, Joy Organics is a leader in quality and adheres to a strict set of quality and manufacturing standards.
Hemp Extract Quality
All Joy Organics products are extracted from a proprietary hemp strain, which is grown organically in the United States.
In order to ensure the quality, potency, and safety of its products, Joy Organic's hemp farmers operate under strict guidelines and utilize revolutionary farming techniques that help to avoid the use of harmful pesticides and herbicides.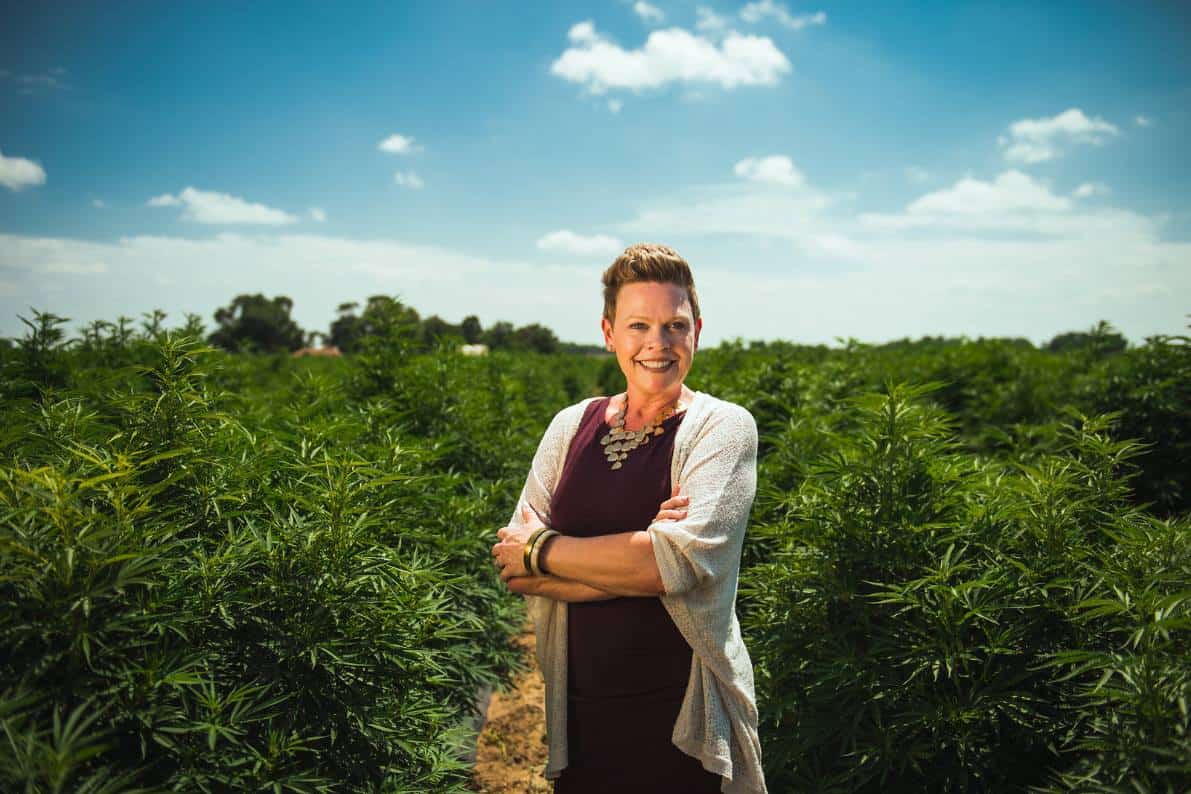 Production Process
Once harvested and then properly dried, Joy Organics processes raw hemp into a coarse powder utilizing industry-leading milling techniques.
From there, the raw hemp powder is transported to the company's cGMP-compliant facility.
In order to produce an extract of the highest quality, while preserving the plant's phytocannabinoids, terpenes, and flavonoids, Joy Organics utilizes an extensive CO2 extraction method and proprietary purification process.
The result is a phytocannabinoid-rich broad spectrum hemp oil of the highest quality.
While the extraction process is typically the final phase of production for most other CBD products, Joy Organics CBD oil undergoes one more, critical process.
Utilizing state of the art technology, Joy Organics refines its final product by removing any impurities including wax, chlorophyll, plant pigmentation, and most importantly, any trace amounts of THC.
Lab Testing Standards
To ensure the highest level of safety and quality, all Joy Organics products undergo extensive third-party lab testing.
According to the company's website, every batch of products receives the most comprehensive testing currently available: cannabinoid profile and potency analysis, microbial analysis, heavy metals analysis, and analysis for over 60 pesticides.
The latest lab reports for Joy Organics CBD Oil can be accessed by scanning the QR code shown on the product's label or by simply visiting the Lab Results page on the company's website.
Joy Organics CBD Oil Pricing
Joy Organics CBD oil offers industry-leading quality and flavor; however, its pricing is surprisingly very competitive. In fact, it's actually cheaper than many other options.
| | | |
| --- | --- | --- |
| 225mg | $29.95 | $0.133/mg |
| 450mg | $53.95 | $0.119/mg |
| 900mg | $77.95 | $0.086/mg |
| 1350mg | $99.95 | $0.068/mg |
As you can see from the table above, the price per MG of CBD is fantastic. With free shipping on every order, Joy Organics CBD Oil is a steal.
Plus, Find Hemp CBD readers can score an even better deal!
Use our exclusive coupon "FINDHEMPCBD" to save an additional 20% off your entire order at Joy Organics.
About Joy Organics
Joy Organics is a family-owned business based out of Fort Collins, Colorado.
According to the brand's website, Joy Organics was founded with a clear initiative: to develop premium CBD products through innovation and excellence, with service to match.
This dedication to product quality and customer care stems from CEO and Co-Founder Joy Smith's own personal journey with CBD. As a mother, grandmother, and humanitarian, she has always wanted to bring comfort and compassion to as many people as she could reach. Her serendipitous discovery of CBD fell perfectly in line with this passion.
As she started to struggle with sleep and other issues, Joy began looking for natural support for her body. Her son mentioned she may find what she was looking for with CBD. Joy purchased many products from many brands, but only a couple of them provided positive effects. Little did she know that this experience would be the beginning of an incredible journey.
[review_scorecard]
Thank you for reading our Joy Organics CBD Oil review! If you have any comments, questions, or suggestions about Joy Organics or our Joy Organics CBD Oil Review, please share your thoughts with us in the comments.
More Joy Organics Reviews
At Find Hemp CBD, we have had extensive experience with Joy Organics products. Click here to check out our other Joy Organics.
---
Please be aware that the individual(s) who conducted this Joy Organics CBD Oil review are not certified medical or nutritional experts and the content and information contained in this review should not be perceived as medical or health advice. While the individual(s) who conducted this review are knowledgeable and passionate about CBD and the quality of CBD products, you should always conduct additional research and thoroughly assess your decision before purchasing any product.