Curious if Kanabia Full Spectrum CBD Oil is right for you? Learn the facts and read a full product breakdown in our comprehensive Kanabia review.
[review_scorecard]
Kanabia Review Overview
Developed by a team of scientists and hemp geneticists, the Kanabia Full-Spectrum CBD Oil tincture is a multi-cannabinoid hemp complex formulated to deliver a wider range of benefits by leveraging the "Entourage Effect."
Bottled in a dark amber glass bottle, Kanabia's CBD oil features a natural, light golden color and exhibits a clear, consistent appearance with no signs of contaminants or irregularities.
Visually, Kanabia's Full Spectrum CBD Oil looks solid, but we've all learned that looks can be deceiving…
Is Kanabia legit and worth spending your hard earned money on? Keep reading our Kanabia review to find out.
Kanabia Full Spectrum CBD Oil Product Details
Product Size: 50mL
Product Flavor: Natural
Strength Options: 250 mg, 500 mg, and 1000 mg
Ingredients:

MCT

Oil (coconut), Hemp Extract, organic hemp extract
Price: $24.99 – $79.99
Kanabia CBD Oil Quality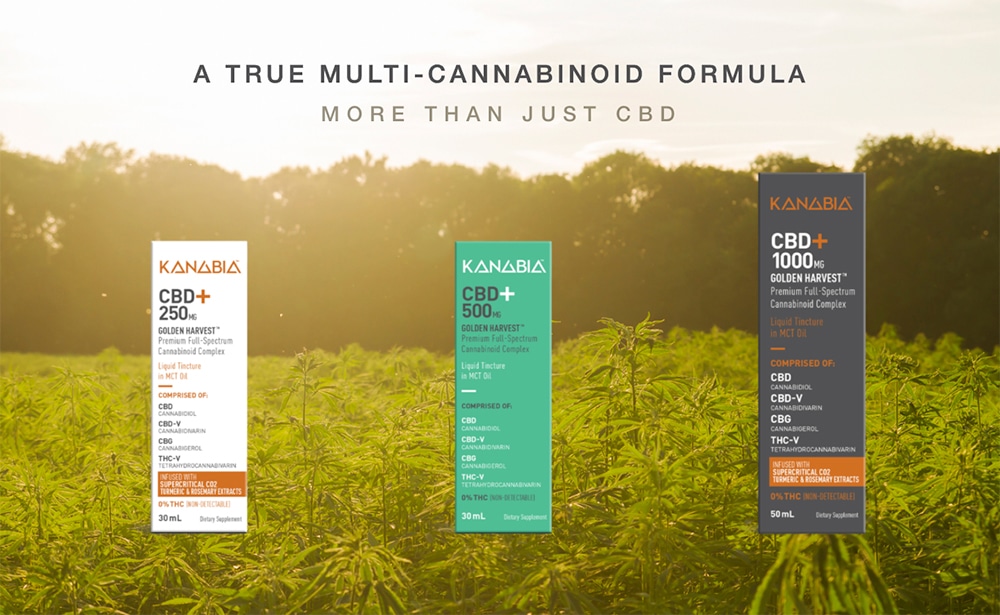 Kanabia Golden Harvest™ Multi-Cannabinoid Complex
The Kanabia Full Spectrum CBD Oil tincture is made with two simple ingredients: coconut-derived MCT-oil base and Kanabia's proprietary Golden Harvest™ formula, which contains a rich blend of cannabinoids (CBD, CBG, CBDv, THCv), terpenoids, and flavonoids. Devloped by Kanabia's in-house team of scientists and hemp geneticists, the Golden Harvest™ complex was formulated to deliver a wider range of benefits than just CBD.
Fully Integrated Production Process
To ensure all its products meet the utmost standards of quality, potency, and purity, Kanabia utilizes a vertically integrated production process.
This means that they have complete control of the sourcing and manufacturing of their products from start to finish.
To handle the capacity to manage an operation of this scale, Kanabia owns and operates a network of GMP-standard, pharmaceutical-grade facilities, which includes:
20,000 acres of organic hemp farms
35,000 square foot processing facility
300,000 square foot CBD products production facility
200,000 square foot CBD Pet Products production facility
Kanabia 3rd Party Lab Testing
Kanabia's most recent lab report can easily be found on the "Lab Reports" page of its website.
At the time of our review, the lab report listed was an analysis of Kanabia's Golden Harvest extract, which had been submitted to a 3rd party laboratory, Pro Verde Labs, on June 28, 2019 and was approved on July 11, 2019 (individual lab reports for each of Kanabia's products were not available).
According to this lab report, Kanabia's Golden Harvest Extract was submitted for the highest scope of analysis. This includes analysis for the assessment of cannabinoid potency, terpenoid potency, heavy metals, microbiological contaminants, pathogenic bacterial contaminants, pesticides, volatile organic compounds (VOCs), and mycotoxin. Based on the report, Kanabia's extract had passed every test and was approved by lab technician, Jon Podgorni.
Kanabia CBD Oil Pricing
Kanabia Full Spectrum CBD Oil is available to purchase at Kanabia.com in 250mg, 500mg, and 1000mg strength options at the following price points:
250 mg – $24.99
500 mg – $44.99
1000 mg – $79.99
Compared to other full spectrum CBD oil tinctures, Kanabia's price per milligram is slightly higher. However, most of these tinctures, if any, do not feature a cannabinoid profile as diverse as Kanabia's, nor are they backed by years of science-driven research and development.
When considering these important factors, the value delivered by Kanabia versus other full spectrum tinctures is incomparable.
In addition, Kanabia delivers further value to its customers with a variety of attractive incentives:
Free USPS priority shipping on all orders within the United States
Monthly Subscription options for all products offered at a 15% discounted rate
Special 25% Off Assistance Program for veterans, police officers, fire fighters, persons with disabilities, and those from low-income households.
Company Background: About Kanabia
Kanabia is a subsidiary of Blue Sky Biologics, a global leader of research-driven hemp cannabinoids and cannabinoid-based products headquartered in Vancouver, Canada.
Like Blue Sky, Kanabia aims to develop innovative, scientific-based cannabinoid products that empower users to experience the full range of benefits offered by the hemp plant.
With a network of pharmaceutical-grade facilities around the world and a team of scientists, hemp geneticists, and master growers behind their formulas, Kanabia has some serious firing power.
While the company is still young and growing, and hasn't developed much of a reputation for itself, Kanabia has the potential to become an industry leader.
[review_scorecard]
Thank you for reading our official Kanabia CBD review! If you have any comments, questions or suggestions about Kanabia or our Kanabia Review, please drop us your message in the comments – we'd love to hear from you!
Please be aware that the individual(s) who conducted this Kanabia review are not certified medical or nutritional experts and the content and information contained in this review should not be perceived as medical or health advice. While the individual(s) who conducted this review are knowledgeable and passionate about CBD and the quality of CBD products, you should always conduct additional research and thoroughly assess your decision before purchasing any product.