Wondering if TIMBR Organics Hemp Cigarettes are worth a try? Dive into our detailed TIMBR Organics Hemp Cigarettes Review, where we dissect the facts and offer a complete product breakdown!
Plus, get an exclusive 20% OFF discount code and save big when you order your TIMBR Organics Hemp Cigarettes!
Smoking hemp may seem like a modern trend, but it's far from new. The recent relaxation of hemp laws has merely thrust this vibrant green smokable flower back into prominence.
Many enthusiasts argue that smoking hemp is one of the most effective ways to consume cannabinoids, providing a familiar experience and an exceptionally rapid onset of effects.
If you're seeking a socially acceptable and convenient avenue for enjoying hemp, hemp cigarettes stand out as an ideal choice. Numerous brands are jumping on the bandwagon, but TIMBR Organics consistently ranks as a preferred option for discerning customers.
So, what's the verdict? Do these hemp cigarettes meet the brand's esteemed reputation?
Dive into our TIMBR Organics Hemp Cigarettes review and find out if you should give it a try! 
TL;DR – A Highly Recommended Choice!
TIMBR Organics Hemp Cigarettes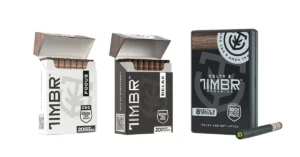 Read our in-depth TIMBR Organics Hemp Cigarettes Review: Delta-8 THC Cigarettes, CBG Cigarettes, and CBD Cigarettes. Exclusive 20% OFF discount code inside!
Product Brand: TIMBR Organics
Pros
Diverse Product Range: TIMBR Organics offers three types of hemp cigarettes (Delta 8 THC, CBG, CBD), catering to various customer preferences.
Quality and Innovation: Known for quality and innovation, TIMBR Organics crafts unique, high-quality hemp products.
Comprehensive Hemp Offerings: TIMBR Organics' product lineup includes hemp flower, vapes, pre-rolls, emphasizing a one-stop-shop for smokable hemp products.
Cons
Limited Accessibility for Some Consumers: Certain products, like Delta 8 THC Cigarettes, may be limited or restricted in specific regions, affecting availability for some consumers.
Meet The Brand: TIMBR Organics
Regarded as a trailblazer in the smokable hemp product industry, TIMBR Organics has been crafting quality since its inception 2020. Located in Garden Grove, CA, the company's commitment extends beyond hemp cigarettes.
With a rich portfolio that includes handpicked hemp flower by strain, state-of-the-art hemp vapes, and meticulously rolled hemp pre-rolls, TIMBR Organics proves its dedication to both variety and quality.
TIMBR Organics Hemp Cigarettes Review
Unlike many brands content with offering just a single option for hemp cigarettes, TIMBR Organics solidifies its leadership in the Hemp product industry with innovation and diversity.
Not content with the ordinary, they have crafted three distinct types of hemp cigarettes, each designed to resonate with various preferences and ensuring a satisfying experience tailored to every individual customer.
Here's a quick look at the exclusive line-up:
TIMBR Organics Delta 8 THC Cigarettes – a unique blend targeting those seeking a more nuanced and distinct sensation. Perfect for those looking to explore the specific attributes of Delta 8 THC.
TIMBR Organics CBG Cigarettes – catering to users interested in the potential wellness benefits of CBG, these cigarettes offer a unique experience unlike any other in the market.
TIMBR Organics CBD Cigarettes – ideal for those wanting the calming and therapeutic effects of CBD without the complexity of other cannabinoids. A pure, clean experience for the CBD purist.
TIMBR Organics doesn't merely offer products; they present carefully crafted experiences. Each of these three hemp cigarette types highlights a specific hemp-derived cannabinoid, enabling you to select your desired effect and find a product precisely tuned to deliver it. Explore and enjoy the rich world of possibilities with these specially curated options.
TIMBR Organics Delta 8 THC Cigarettes
Experience the unique blend of TIMBR Organics' Delta 8 THC Cigarettes. Crafted with an elevated level of Delta 8 tetrahydrocannabinol, Delta 8 THC offers a legal and less potent alternative to Delta-9 THC. Each pack from TIMBR contains 8 perfectly rolled cigarettes, delivering a total of 320mg of Delta-8 THC.
Get a taste of this unique experience and save 20% off with coupon code: CBD20LIFE.
TIMBR Organics CBG Cigarettes
Discover the rarity of high-cannabigerol with TIMBR Organics CBG Cigarettes. Made from select CBG-rich hemp flower, these cigarettes offer a unique experience that can be hard to find elsewhere. Each pack contains 20 meticulously crafted cigarettes, providing a potent total of 1,000mg of CBG.
Indulge in the premium quality of CBG and save 20% off with coupon code: CBD20LIFE.
TIMBR Organics CBD Cigarettes
Savor the soothing and therapeutic properties of CBD with TIMBR Organics CBD Cigarettes. The brand's standard hemp cigarette delivers high levels of cannabidiol for a truly relaxing experience. Each pack from TIMBR houses 20 premium CBD cigarettes, offering a potent dose with 1000mg of cannabinoids per pack.
Experience the calming effects of CBD and save 20% off with coupon code: CBD20LIFE.
Pricing for TIMBR Organics Hemp Cigarettes
When it comes to TIMBR Organics, choice is key — both in the diverse types of hemp cigarettes offered and in the flexible purchasing options. Whether you're trying to save a bit or ready to invest in bulk, TIMBR's pricing structure has you covered:
Delta 8 Cigarettes – A steal at $15.99 per pack or an economical $159.99 per carton.
CBG Cigarettes – Perfectly priced at $12.99 per pack or just $129.90 per carton.
CBD Cigarettes – Unbeatable value at $9.99 per pack or only $94.99 per carton.
Comparatively, hemp cigarettes in the market can vary significantly in price, with some brands charging almost $20 per pack. TIMBR's prices don't just align with competitors; they excel, offering unique options like high Delta 8 and CBG at prices akin to standard CBD cigarettes.
Quality of TIMBR Organics Hemp Cigarettes
TIMBR Organics' commitment to quality is evident from packaging to product. Their uniformly ground and firmly packed flower, sealed to preserve freshness, provides a smooth and satisfying smoke.
But they don't stop there. TIMBR ensures transparency and quality through third-party lab testing. This means you know exactly what you're getting with each batch, from cannabinoid content to potency. A high-rated brand with reason, TIMBR delivers on all fronts.
What Other Customers Say About TIMBR Organics Hemp Cigarettes?
Praise for TIMBR's hemp smokes is consistent and enthusiastic across the board. With regular four or five-star ratings across all options, customers often emphasize the smoothness, flavor, and effectiveness of these products. A snapshot of firsthand comments provides a testament to the brand's quality:
"It's fantastic. Best hemp cigs I've smoked. I love the filter and the charcoal infused filter, plus the fact that it's and even and consistent burn. Perfect effects. Will purchase again!"
"Excellent cigarette and great Company. The delta 8 smoke smooth and calms you down in minutes. A great stress reliever in these hard times. Thanks, timber!!!"
"BEST CBD cigarettes I've tried so far. Amazing taste and premium packaging!"
"This was my first time trying CBD cigs and have to say I'm hooked."
"I've cut back on cigarettes after only a few weeks. The second I'm gonna be able to buy a whole carton I will."
Are TIMBR Organics Hemp Cigarettes Worth a Try?
Short answer… YES! When you take a closer look at TIMBR Organics, the brand's commitment to quality, affordability, and customer satisfaction is evident. With attractive pricing, diverse options, and positive customer testimonials, TIMBR Organics has secured a remarkable position in the hemp industry.
But what truly stands out about TIMBR is the excellent value for the price. Offering premium quality hemp cigarettes without the hefty price tag, they've created an accessible pathway to legal hemp smoking.
If you're curious about experiencing hemp cigarettes or seeking a top-notch option without breaking the bank, TIMBR Organics is an appealing and easy choice.
Ready to explore what TIMBR Organics Hemp Cigarettes have to offer? Visit their website at timbrorganics.com and make your selection today.
---
Thank you for joining us on this exploration of TIMBR Organics Hemp Cigarettes! Your thoughts, questions, or feedback about these products are highly appreciated, so please feel free to comment below.
For more insights into the world of CBD, including reviews, informative articles, and the latest news, keep following the FindHempCBD blog.
---
Affiliate Disclosure: FindHempCBD.com participates in various affiliate programs, which means we may earn a commission when you click on certain links on our site and make a purchase. These commissions do not affect our editorial integrity or the recommendations we make. Our goal is to provide you with well-researched, accurate, and unbiased information, and the compensation we receive helps us maintain the quality of our content. We appreciate your support and trust in us.
Medical Disclaimer Please be aware that the individual(s) who conducted this product review are not certified medical or nutritional experts and the content and information contained in this review should not be perceived as medical or health advice. While the individual(s) who conducted this review are knowledgeable and passionate about CBD and the quality of CBD products, you should always conduct additional research and thoroughly assess your decision before purchasing any product.